The following checklist has been designed to help your end-of-term grading run smoothly.
1.) Download and Save the Current Version of the Canvas Gradebook
It's a best practice to download and save a course's Canvas gradebook before entering final grades. Here are instructions for how to download the Canvas gradebook:
How do I download grades from the Gradebook?
2.) Finish Entering Grades in Canvas
Depending on the type of assignment or "quiz" (exam, test, quiz, or survey), you have several grading and feedback options. To learn about these options, please see the Grades and SpeedGrader sections of the Canvas Instructor Guide.
3.) Unmute All Assignments and Quizzes
Muting in Canvas is when you hide feedback and grades from students. If you have used muting throughout the semester, you should double-check to see if all of your assignments and quizzes are unmuted. Not only will you want to unmute assignments so students can receive your feedback and grade, but you will also want to unmute assignments and quizzes for the total grade that your students see in their Canvas grade summaries so that it matches the course grade you enter in Courses InTouch (CIT). If you don't unmute assignments and quizzes, your students will not see their real total course grade in Canvas, as it will not include their muted assignments.

For more information about muting, please consult the instructions on how to mute and unmute assignments in the gradebook and in SpeedGrader. For instructions on how to hide and unhide the students' total course grades from their grade summaries, please consult:
How do I hide totals in my students' grade summaries?
4.) Download and Save the Final Version of the Gradebook
Please see the instructions in the first step. It's a good idea to keep both versions of the gradebook–pre-final grading and post-final grading–for your records.
5.) Upload the Gradebook to Courses InTouch (CIT)
Follow the directions in the CIT Online Grading – User Guide to upload your grades to Courses InTouch. (See Section 13.4 "Uploading a Grade Roster").
Please note that although these instructions make reference to Blackboard, the spreadsheet-configuration requirements still apply to the downloaded version of the Canvas gradebook you will upload to CIT.
Video: Grading in Canvas at the End of a Term
We hope you enjoy this video geared towards faculty and TAs managing grades in Canvas using the gradebook! It shows six steps for finishing up grading in Canvas at the end of a term.
Please note: This video was made before the introduction of the new Canvas UI, which is why Canvas looks a little different in this video from how it looks currently. Nevertheless, the steps covered in the video can be used in the new Canvas UI despite Canvas's different appearance.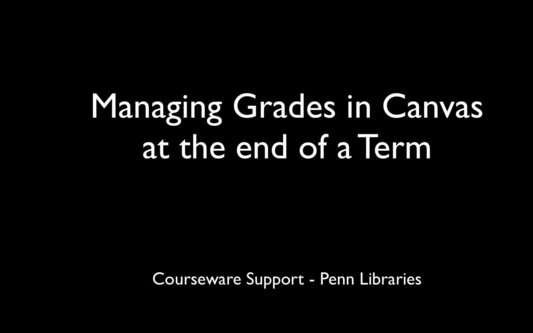 Six Easy Steps for End-of-Term Grading in Canvas
This video demonstrates how to do the following:
Download and save your Canvas gradebook
Hide ("mute") assignment grades and feedback from students
Hide total course grades from students
Grade all ungraded assignments
Unhide assignments and total course grades
Download and save finished gradebook
Questions?
Please email canvas@pobox.upenn.edu.
Last Updated: 23 Sep 2022