We hope you enjoy this video geared towards faculty and TAs managing grades in Canvas using the gradebook! It shows six steps for finishing up grading in Canvas at the end of a term.
Please note: This video was made before the introduction of the current Canvas UI, which is why Canvas looks a little different in this video from how it looks currently. Nevertheless, the steps covered in the video can be used in the new Canvas UI despite Canvas's different appearance.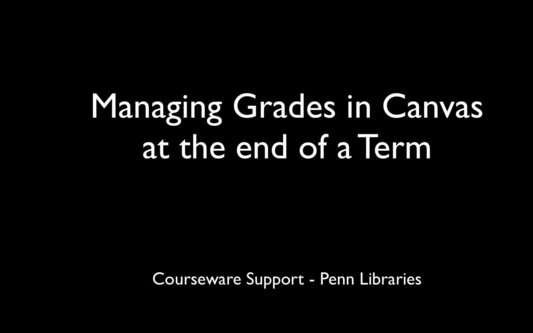 Six Easy Steps for End-of-Term Grading in Canvas
This video demonstrates how to do the following:
Download and save your Canvas gradebook
Hide ("mute") assignment grades and feedback from students
Hide total course grades from students
Grade all ungraded assignments
Unhide assignments and total course grades
Download and save finished gradebook
If you have any questions, please email Courseware Support at canvas@pobox.upenn.edu.
Last Updated: 20 Oct 2021